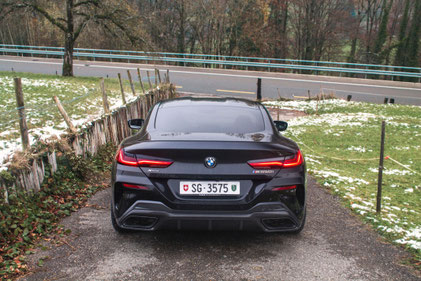 Finally!
This is the new BMW M850i xDrive Coupé. Three months after seeing the new 8 for the first time, I finally got the opportunity to take it out for a first drive. Big thanks to Christian Jakob at this point for giving me this opportunity and involving me in the proccess of receiving one of the first M850i's in Switzerland.
I picked the car up on a foggy afternoon and decided to take it up some twisty roads to test the everyday driving ability.
Agility
Here I was then, driving one of the first M850i's in Switzerland. During my first meters I quickly realised how big the new 8 is. With a length of 4.8 meters and a width of almost 2 meters, the new 8 seems incredibly big at first, but it's after the first few turns when you realise that the turning cicle is incredibly good and something has to be special about it. After another few turns you start thinking and realise that the active integral steering works splendid. This functionality means that the car is able to steer with both axels which gives the car more stability and a better turning circle.
Engine
After a few minutes, the 4.4 liter V8 was finally on temperature and I was able to switch into sport mode. The new M850i has various modes from Eco Pro to Individual and the difference inbetween these settings is incredible. After changing into sport mode, the velves of the exhaust opened and besides the at first weird sounding exhaust speakers inside the car, the beautiful  V8 started grumbling. The dampers and the steering got stiffer and the 8 was ready to tackle some tight corners.
The road presence is really agressive and together with the carbon package the car has a great contrast in sport and style. The optional lazer lights have a range of 600 meters and the rear light going around the edges gives the 8 the feeling of wideness. The xDrive works perfect but what else to expect from BMW.
The 530 horsepower together with 750 newton meters inredibly quick and even with the weight of almost two tonnes, the new M850i accelerates from to 100 km/h in only 3.7 seconds!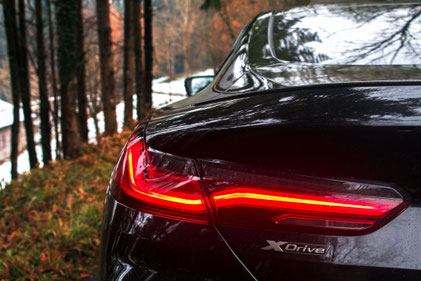 As with every love story, my drive with the M850i was over after a phenomenal afternoon. My average fuel consumption was at 11 liters per 100 kilometers but I felt like there was no need to save fuel with an engine like that and I hope future customers feel the same. The new M850i is a great car, effortless, deliberate, aggressive, great job BMW.