After almost 20 years of a break, BWM has brought the 8-series back. The E31 8-series was produced between 1989 and 1999 and now, almost 20 years later, the new 8 has finally arrived. I got the chance to take a look at the first uncovered 8 in Switzerland.
The Keyword of the new 8-series is sport; as this car is designed and built to be a sports car.

There are currently two engines available. One is a twin turbo powered 4.4 liter V8 petrol engine producing 520hp and the other engine is a turbo powered 6-cylinder diesel producing 320 horsepower. Highly impressive is, that the diesel engine has 680 newtone meters of torque; as a comparison, the BMW M4 has 'only' 550 newton meters. BMW has already presented the concept of the M8, which is most likely to have over 600 horsepower and will arrive at some point in 2019.
The E31 8-series used to be the technology 'tour de force' of BMW in the 1990's and so is the new 8. The design of the infotainment system got completely redesigned. The new software offers a wide range of menus and is easy to control. Also, the new 8 offers the park assist package which parks the car completely autonomously.

Another cool feature is the voice control. The new 8 is able to understand all kinds of needs and wishes, and I am not talking of programmed sentences that need to be said in an exact way for the car to understand. The car understands every kind of question.

The center console is positioned towards the driver, which is something truly unique and I haven't seen this with a BMW so far.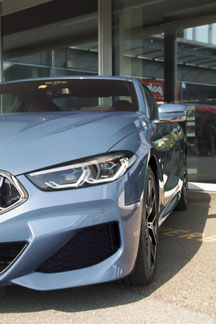 The official swiss premier of the 8-series is going to be in November and this is when I will be able to take the M850i out for a spin. A million thanks to Christian Jakob, a local BMW dealer, for giving me this incredible opportunity to show such an amazing car to my viewers and readers this early. You can check out their website here.